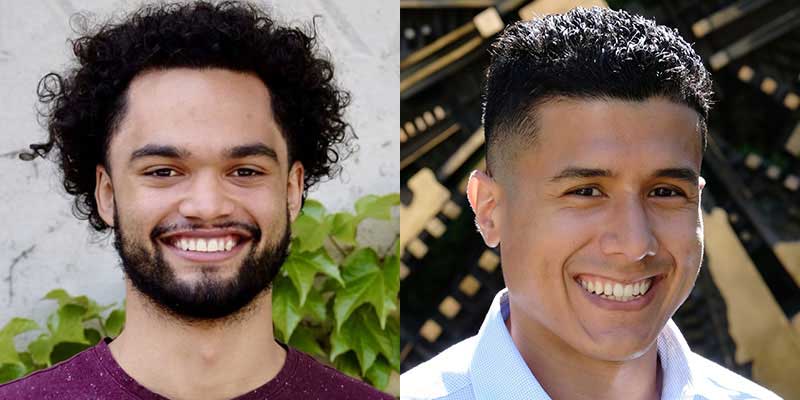 New HHMI Gilliam Fellows, Matthew McDonough and Fernando Valbuena
Two Cell and Molecular Biology students have been awarded 2021 HHMI Gilliam Fellowships.  Matthew McDonough and his advisor Jonathan Staley, and Fernando Valbuena and his advisor Benjamin Glick, have been awarded for Gilliam Fellowships for Advanced Study to support exceptional graduate students who are committed to increasing diversity among scientific leaders.  Both Matthew and Fernando participated in MGCB's NSF funded REU (Research Experience for Undergraduates). Matthew is studying the co-transcriptional turnover of incorrectly spliced mRNA transcripts and Fernando is investigating the mechanisms of cargo movement through the Golgi.
The Gilliam Fellowships for Advanced Study were created in 2004 in honor of the late James H. Gilliam, Jr., a charter Trustee of HHMI who spent his life nurturing excellence and diversity in science and education. Since its inception, HHMI's Gilliam Program has worked to ensure that students from populations historically excluded and underrepresented in science are prepared to become scientific leaders. To retain as many of these students as possible in PhD programs, HHMI believes that it is crucial to provide high-quality mentoring, as well as financial support, an inclusive lab environment, and a supportive community,. The program provides awards to pairs of students and their dissertation advisers who are selected for their scientific leadership and commitment to advance diversity and inclusion in the sciences. Mentorship is a Gilliam hallmark, explained David Asai, HHMI's senior director for science education, and one way the program is sparking a cultural shift on campuses.
In total, the Gilliam Program has now selected 351 fellows, and from 2015 to 2021, the program has focused heavily on developing academic mentors. To date, the program, in collaboration with the Center for the Improvement of Mentored Experiences in Research (CIMER), has trained 199 mentors on how to create an environment that helps students of all backgrounds feel like they belong – in the lab and in science. Gilliam advisers participate in a year of mentor development activities that emphasize cultural awareness, including monthly online training and two in-person workshops at HHMI headquarters in Chevy Chase, Maryland. Together, the activities teach advisers how to listen and engage across cultures.
Matthew and Fernando of the 4th and 5th CMB students to receive Gilliams, following in the footsteps of Christopher Craddock and Jonathan Staley; Cody Hernandez and Jonathan Staley, and Dequantarius Speed and Jean Greenberg.